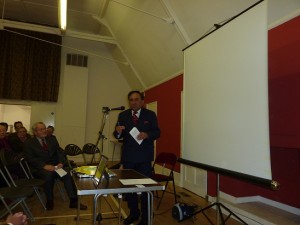 Lord Sheikh attended and spoke at a meeting held by Building Bridges which is an organisation that is engaging with both Christian and Muslim communities in order to bring them together and highlight their many similarities and promoting interfaith dialogue.
In his speech Lord Sheikh highlighted the many similarities spoke about how the Quran regards Muslims, Christians and Jews as people of the Book and he also mentioned the fact that Jesus is mentioned more times in the Quran than Prophet Muhammad (peace be upon him). He added that many non-Muslims do not realise that the Sura Maryam (Mary) in the Quran contains the story of the birth of Jesus.
Cllr Raza Anjum, who is a member of the Conservative Muslim Forum Executive Committee, was also presented with a Building Bridges Award to recognise his considerable work in promoting peace, harmony and interfaith dialogue.