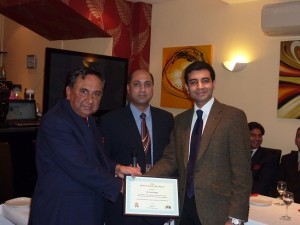 Lord Sheikh attended and spoke at an event held in Saffron Walden to discuss the current issues in Pakistan. In his speech Lord Sheikh mentioned that it is important that democracy should be maintained in Pakistan but it is necessary for the judiciary and the media to remain independent and furthermore the institutions need to be strengthened. He also commented that he believes in the empowerment of women and that women need to be educated and given every opportunity to succeed.
The event was organised by Sarfraz Anjum and Raza Anjum. Raza Anjum heads the Youth Wing of the Conservative Muslim Forum and he has recently been to Pakistan to speak against the conviction of Asia Bibi and Lord Sheikh commended Raza Anjum for having the courage to undertake this work.
After the meeting Lord Sheikh presented Cllr Raza Anjum with the Pride of Cambridge Award in recognition of the excellent work undertaken by him in the UK and also in Pakistan.