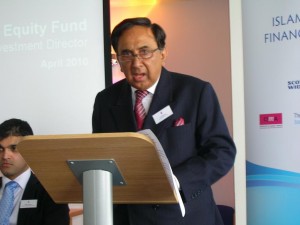 Lord Sheikh is now a patron of the Islamic Finance Council and he travelled to Edinburgh to speak at a Conference arranged by the Council. He made the comment that it is appropriate that the Conference is held in Scotland as the first mutual life office was established in Scotland in 1815 which was Scottish Widows and subsequently the largest mutual office in Europe, Standard Life, was Scottish.
Lord Sheikh also said that Islamic Finance is growing rapidly and it is important that the United Kingdom remains at the forefront and we need to be proactive to combat competition from other Western countries. He also commented that he has spoken about promoting Islamic finance in the House of Lords and travels around the world talking on this subject.
Lord Sheikh also paid tribute to Mr Tariq Masood and Mr Omar Shaikh (Chairman and Board Member of Islamic Finance Council respectively) for all of their efforts in promoting Islamic Finance worldwide. You can obtain more information about the Islamic Finance Council by clicking here
In the evening Lord Sheikh was a guest at a function organised by The Lord Provost of Glasgow and Lord Sheikh also spoke at the event. He spent the next day meeting the Muslim leaders and the community in Glasgow where he was very impressed by the achievements of the community.