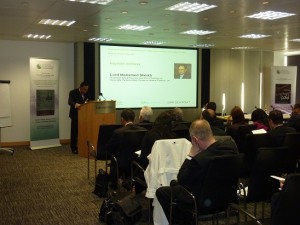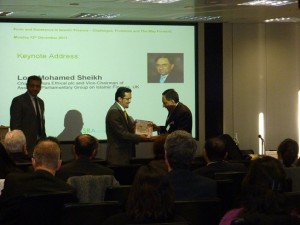 Lord Sheikh made the keynote speech at a Conference organised by the International Shariah Research Academy for Islamic Finance (ISRA) and SNR Denton and the subject was "Form and Substance in Islamic Finance – Challenges, Problems and the Way Forward." 
In his address Lord Sheikh said that it is fitting that the Conference is being held in London because of London's history as an international finance centre of great importance and it is also vital in the expansion of Islamic finance in Europe and elsewhere.
He also said that the Islamic finance system is founded upon the central theme of achieving sustainable growth and shared prosperity whilst promoting innovation. He went on to say that the market is now worth over 1 trillion dollars globally. The annual growth of Islamic finance exceeds 20% per year and it is the world's fastest growing financial sector. The growth of Islamic insurance is over 15% per annum which outstrips the annual growth rate for conventional finance.
The United Kingdom has Shariah compliant assets in excess of 18 billion dollars and it comes 8th in the Bankers League which is the highest amongst all Western countries. The UK was the first country in Europe to promote and encourage retail Islamic banking and is now the leading centre for Islamic finance outside of the Gulf countries and Malaysia.