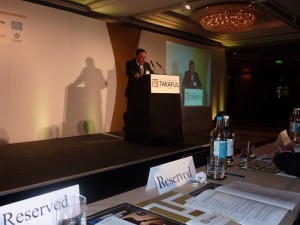 Lord Sheikh made the welcoming remarks at the International Takaful Summit 2012 which was held at the Jumeirah Carlton Hotel.
In his speech he mentioned the importance of London in the international Islamic Finance market, particularly in regards to training and education. Lord Sheikh also spoke about the key role that Islamic Finance and Takaful can play in these times of economic difficulties. He emphasised that Islamic finance, with its principles, can play a key role in advocating a more responsible, fair, transparent and socially aware financial system that works for the people.
Lord Sheikh went on to mention his connection with Malaysia, which is an important player in the global Islamic finance market and acknowledged His Excellency the Malaysian High Commissioner who was also in attendance.
Lord Sheikh also briefly spoke at the International Takaful Summit Awards dinner held that same night and presented the awards to the winners for the fifth year running.
The two- day Conference was ended by a dinner held in the Great Hall of the historic Chartered Insurance Institute  building. It was a fitting venue for the dinner as the CII has a module on Takaful in its examinations.