Lord Sheikh attended and spoke at a dinner hosted by the Conservative Muslim Forum Peterborough. The dinner was organised to congratulate Mr Paul Bristow MP's victory in Peterborough constituency in the December General Election.
Conservative Muslim Forum Peterborough is Chaired by Mr Mohammad Yousaf who attends the National Executive Committee meetings regularly and plays an active role in the affairs of the Conservative Muslim Forum. Since 2017, Conservative Muslim Forum Peterborough has undertaken a range of activities and, in the year ahead, intends to increase engagement with the Muslim community and reduce barriers for the Muslim community to support the Conservative Party.
During Lord Sheikh's speech, he noted that Paul won with 46.7 percent of the vote and was the first Conservative victor in Peterborough constituency since 2015. He stated that the win by Paul is testimony of the faith and confidence the constituents in Peterborough have in his ability to serve as their Member of Parliament and their confidence in the Conservative Party.
The Conservative Party performed very well in December's general election and has a strong majority in the House of Commons. Lord Sheikh noted that this will certainly help the Party pursue their agenda to 'get Brexit done and unleash Britain's potential'.
The dinner was very well supported, and the attendees included; Councillors, members of CMF Peterborough Executive, members of CMF National Executive, Mayor Gul Nawaz, Paul Bristow MP and members of the community.
The dinner was meticulously organised, and Lord Sheikh had many interesting conversations with the attendees.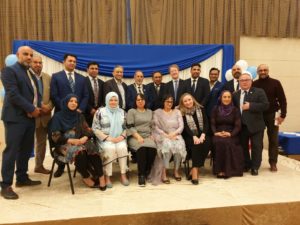 After the main dinner, some of the guests were invited by Councillor Azher Iqbal to have tea and further refreshments at his home.
It was a very lively gathering and Lord Sheikh was able to discuss a number of subjects with the other guests.
The picture below shows Lord Sheikh with Councillor Iqbal, Deputy Leader and Cabinet Member Wayne Fitzgerald and other guests.