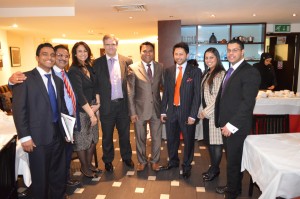 On Wednesday 1st May 2013, the Conservative Muslim Forum held a fundraising dinner at Bundu Khan Restaurant.
The dinner was attended by distinguished guests including:
1) Lord Sheikh,
2) Lord Ahmad of Wimbledon,
3) Lord Popat,
4) Bob Neil MP,
5) Syed Kamall MEP and,
6) H.E. Mrs.Elizabeth Harding, High Commissioner for Gambia.
The evening included a full three course dinner with live entertainment and a raffle. Syed Kamal MEP also presented certificates to the team that won the quiz on the European Union during the recent CMF trip to the European Parliament
The dinner was well oversubscribed and unfortunately some people had to be turned away.