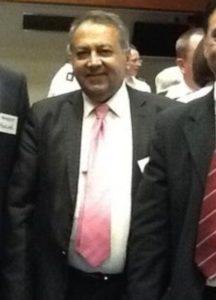 Cllr Mohammed Parvez Sheikh.
Lord Sheikh attended a coffee morning at Blaby Parish Council in memory of Cllr Mohammed Parvez Sheikh.
Lord Sheikh enjoyed the event and were pleased to meet various members of the community in the area. Some of the members of the community came and spoke to Lord Sheikh and they all spoke highly of the community and work which was undertaken by Cllr Mohammed Parvez Sheikh. He was indeed a caring person and did a lot of good for the benefit of other people.
Lord Sheikh said it was very thoughtful of the Council to arrange such a marvellous gathering.
The event was very well supported and people were able to get together for an excellent social gathering and also for the purpose of raising money for a worthwhile cause. There is indeed camaraderie between the residents of the Parish Council which is commendable.