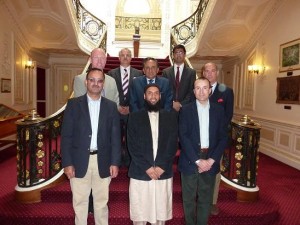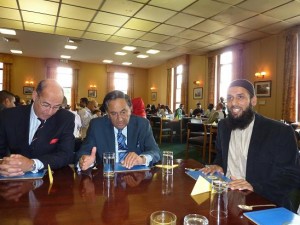 Lord & Lady Sheikh attended the Armed Forces Muslim Association Families Day which was held at RAF Halton. The picture shows Lord Sheikh with Commodore Tim Hennessey RN, Group Captain Zahur Ulhaq (Chairman of Armed Forces Muslim Association), Lieutenant Colonel Mo Usman RLC, Zaheer Ahmad MBE, Imam Asim Hafiz and Corporal Mohsin Mughal (Secretary of the Association) amongst other officers.
A meeting was held at the event where Lord Sheikh made the point that the Armed Forces in the Unied Kingdom are non-political and urged the Muslims to join the Armed Forces and the police force. Lord Sheikh further said that he had been assured by the senior officers in the Armed Forces that promotion would solely be based on the merit of individuals.
At the meeting Group Captain Zahur Ulhaq put forward the idea that we should all consider erecting a memorial in the memory of Muslims who were killed during the two World Wars. Lord Sheikh spoke very much in favour of this idea and said that he would render his support in taking this forward.