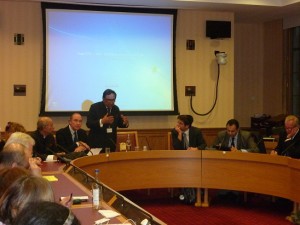 Lord Sheikh hosted an event in The House of Lords on The Righteous Muslims – Recognising the courage of Muslims who saved Jewish lives during the Holocaust.
Lord Sheikh mentioned that at Vad Vashem which is the official memorial to the victims of the Holocaust, honours nearly 25,000 righteous persons and over 70 Muslims have been added to this list. He said that throughout history there has been a bond linking the Jews and the Muslims together and we must always appreciate this and continue with this bond, there are many commonalities between the Jewish and the Islamic faiths. Lord Sheikh said he believed in interfaith dialogue and was a Patron of several Muslim and non-Muslim charities.
Lord Sheikh emphasised that when he was growing up in Uganda one of his closest friend was a Jewish boy whose family came from Cochin in India. He also said that it is written in the Holy Quran that if anyone kills a person it would be as if he killed all mankind: and if anyone saved a life, it would be as if he saved all of humanity. This is very similar to what is written in the Talmud which is: if you save one life, it is as if you have saved the world. There is anti-Muslim and anti-Semitic practices in UK and elsewhere and we must get together to combat these actions.
The other speakers were Lord Stone, Rabbi Natan Levy, the Board of Deputies Interfaith and Social Action consultant, Fiyaz Mughal, Director of Faith Matters.