Lord Lexden's review of 'An Indian in the House' was published in the Autumn edition of The House magazine on 16th November 2020.
"Lord Sheikh's study of the first four British MPs of Indian descent is written with vigour and clarity".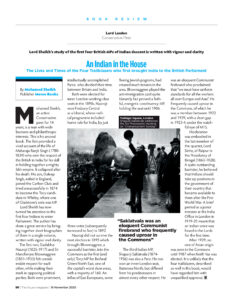 The entire proceeds from the sale of the book are being donated to St Christopher's Hospice. St Christopher's Hospice is a charity and its continued work is only made possible by general donations from everyone. St Christopher's vision is a world in which all dying people and those close to them have access to care and support, whenever and wherever they need it.
The sale price of the books are as follows: hard copy £25 and paperback £18. If you would like to purchase the book, please follow the link to donate directly to the hospice: https://www.stchristophers.org.uk/indianhousebook. The hospice have set up a separate page relating to the purchase of the book.
When you have made the payment, please contact Lord Sheikh's office with your preferred postage address and whether you have purchased a hardback or paperback copy of the book, by emailing books@lordsheikh.uk and they will dispatch the book to you immediately.