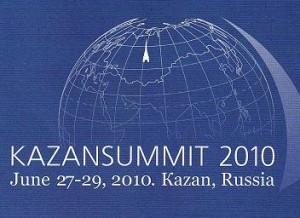 Lord Sheikh was a keynote speaker at the KazanSummit 2010 which was held in Kazan, Tatarstan, Russia during 27-29 June 2010. Lord Sheikh spoke after the President of Tatarstan and later on followed the Prime Minister's speech. Lord Sheikh made the point that the United Kingdom has considerable expertise and we have a lot to offer to organisations who wish to enter or further their business relating to Islamic banking and insurance.
Islamic finance industry is now worth over $750 billion dollars and the annual growth exceeds 30% per annum. The United Kingdom has Shariah compliant assets in excess of $18 billion dollars and comes 8th in the Bankers League which is highest amongst all Western countries.
Lord Sheikh also referred to the peace and harmony in Tatarstan between the various racial and religious groups and that Tatarstan could be the gateway for companies who wish to consider writing Islamic finance in the Russian Federation.
On the next day of the Summit, Lord Sheikh made a presentation and he was supported by Omar Shaikh who had also made separate presentations at different sessions.