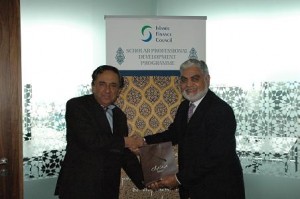 Lord Sheikh attended a Conference arranged by the Islamic Finance Council in conjunction with the Gatehouse Bank. The purpose of the Conference was to train Islamic scholars on matters relating to finance and provide them with details of the financial structures in the United Kingdom.
During the lunch Lord Sheikh spoke and referred to the fact that he was very keen to promote Islamic finance and banking and that he has spoken on this subject at numerous Conferences and gatherings. Lord Sheikh stressed the importance of the training of scholars and the staff of institutions providing Islamic financial products.
Lord Sheikh also emphasised the need for the institutions to be cost-effective and provide excellent service. He also referred to the fact that in view of the mutuality and ethical nature of Islamic finance, this would appeal to Muslims as well as non-Muslims and that it is important that the United Kingdom retains its premiere position in the Western world relating to Islamic financial services and remains in the forefront as there is now competition from other countries.
The Conference was arranged by Tariq Shaikh and Omar Shaikh who have founded the Islamic Finance Council and Lord Sheikh supports the activities of the Council. Lord Sheikh was presented with a gift by Tariq Shaikh and Omar Shaikh.