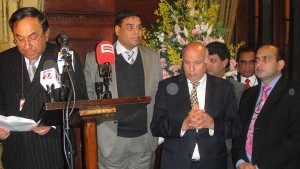 Lord Sheikh was one of the speakers at a meeting organised in the Houses of Parliament to commemorate the anniversary of the death of Benazir Bhutto (former Prime Minister of Pakistan).
In his speech Lord Sheikh emphasised the importance of the maintenance of democracy and the strengthening of institutions and capacity. Furthermore it is essential that measures are taken to combat extremism and terrorism. Lord Sheikh also highlighted the need for the United Kingdom to offer our expertise and financial assistance to Pakistan for the achievement of these objectives. He added that we need to win the hearts and minds of the Pakistani people as well as build the country's infrastructure if we want democracy to prevail in the region.
Click here to view a transcript of Lord Sheikh's speech.